We use Microsoft Teams for our online classes. Below you will find an instruction about the different functionalities and what you can do with them.
Teams
If you are logged in to your Teams application, you can easily find your class under the Teams tab. Here you can see for which blocks you are registered.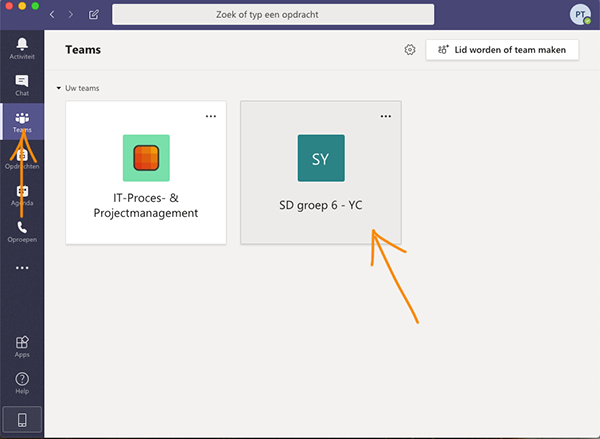 Channels, files and videos
Within the Team of your class you will find the different channels on the left:
General: Here are general messages related to your class.
Chat: In this channel you can consult and chat with your classmates and teachers.
Lessons per starting moment: In this channel you can find the schedules from your courses. If a lesson is active, it will be the most recent message at the bottom. You can also find recordings directly below a meeting here.
You will also find various tabs at the top of the Team where files or notes can be shared, among other things. There is also a Videos tab where you can find the collection of all recorded lectures.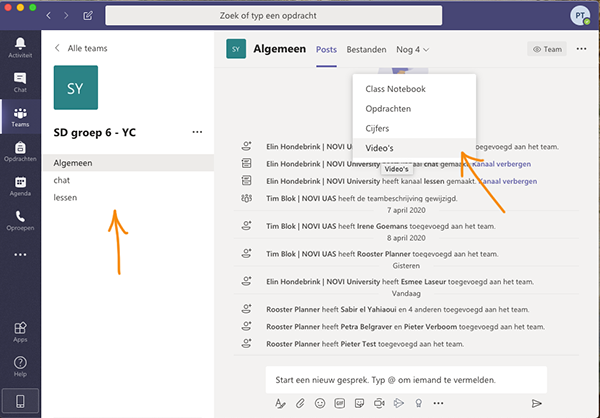 Agenda
Last but not least, the Agenda. Here you can easily see per day or week which lessons you have. When these go live, you can easily participate by clicking on the lesson and then pressing Participate in the top right-hand corner. You can also create meetings or appointments here yourself.
Pay attention!
You must first add a lesson to your agenda before you see it in the agenda.